Re-imagine your business with self-service kiosk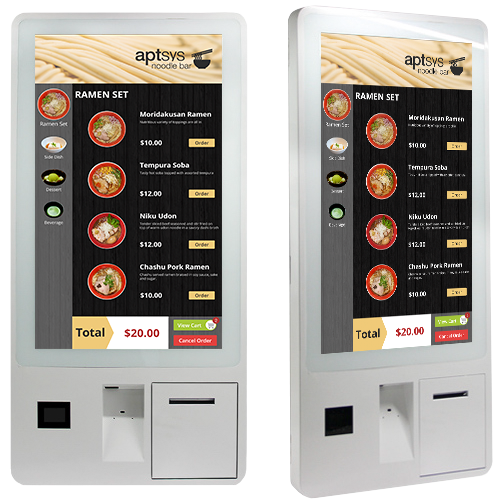 Self-service Payment Kiosk - Turquoise
We provide the best interactive computer terminal for high foot traffic such as quick service or fast-casual restaurants, cafes and food courts. With cash and cashless management instilled inside the kiosk system, this ease restaurant staffs from refilling recycled cash notes and coins during busy hours. Self-service Kiosk does not only help restaurants to generate operating profits immensely but also minimise staff's workloads.
The best thing about Self-service Kiosk is that restaurant staffs do not have to monitor the kiosk 24/7 as it has strong and secure cash notes and coin dispensers that able to prevent thievery. With self-service kiosk, queue timing thus increase restaurant productivity in the long run. Aptsys helps you to do customisation for self-service kiosk and also provide 24/7 support when you face any problems any time of the day.
Only a space of footprint needed to deliver an exceptional experience to your customers
We have everything you are looking for...
If you ever been to Tsuta or Hawker Chan, you will notice a digital signage in their restaurants displaying their menu and newspaper reports and this is one of the service that we can offer for you compared to other solution provider companies. You are able to put advertisements regardless from digital signage or kiosks. We have the most cost-effective kiosk in Singapore and this allows restaurants to generate much more revenue from their operations.